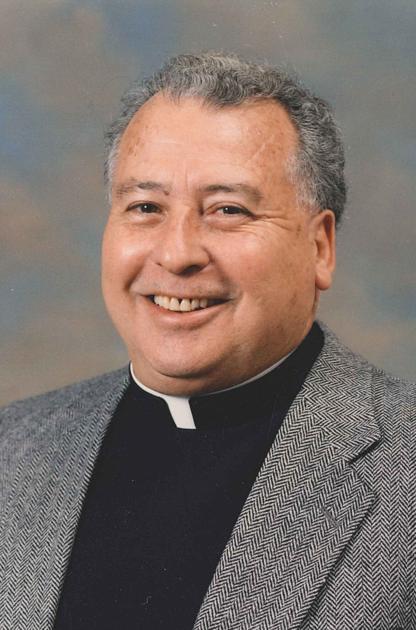 Reverend Alberto Cerezo Fernandez, Senior Priest of the Diocese of Yakima, died on Monday August 16, 2021, following a weekend preaching mission in Petersburg, Va., For the Food for the Poor organization . He was 86 years old and suffered from atherosclerotic disease.
Bro. Cerezo was born on July 20, 1935 in Madrid, Spain, to Emilio Cerezo and Elena Fernandez. He is survived by his sister, Elena Cerezo Fernandez; niece Elena Sanchez Cerezo; nephews Pedro Sanchez Cerezo and Jorge Sánchez Cerezo, and other family members in Spain.
After attending primary school in Madrid, he entered the minor seminary of Alcala de Menares in 1947, where he studied Latin and the humanities. He entered the major seminary, Seminario Conciliar de Madrid, to study philosophy and theology, from which he graduated in 1960. Fr. Cerezo was ordained a priest on January 3, 1960 by Bishop Leopolodo Eijo y Garay, Bishop of Madrid and Patriarch of the Antilles.
Bro. Cerezo served in four parishes in Madrid until 1968 when he came to the United States to serve the growing Hispanic population. He also obtained a master's degree in counseling psychology, working for a time in educational settings. He became a US citizen in 1974. Postings in California, Texas, and New York City preceded his move to the Diocese of Yakima in 1979, and he officially joined the diocese in 1982.
Assignments included general Hispanic ministry as well as parish work in Toppenish, Moses Lake, Warden. He served as pastor in St. Joseph Parish, Waterville; Sacred Heart Parish, Prosser; St. Francis Xavier Parish, Kashmir; and Notre-Dame-des-Neiges Parish, Leavenworth.
In 1995, Fr. Cerezo began a Hispanic ministry mission in the Archdiocese of Seattle, with a limited ministry that continued there after his retirement in July 2002. He generally spent the spring and summer in the area. in Seattle, and fall and winter in Miami. He faithfully attended the annual Yakima priests retreat each spring to maintain contact with his brother priests.
For many years, he traveled extensively to visit Catholic parishes across the country to share the mission of Food for the Poor, a Florida-based Christian ecumenical nonprofit organization that provides food, medicine, shelter and other services to the poor in Latin America and the Caribbean. At the time of his death, despite his poor health, Fr. Cerezo had planned six trips to support the ministry.
Donations can be made in his memory to the Yakima Diocese Seminarian Education Fund, PO Box 2189, Yakima, WA 98907-2189; or Food for the Poor, 6401 Lyons Road, Coconut Creek, FL 33073. Brookside Funeral Home is in charge of arrangements.
A vigil is scheduled for Thursday, August 26 at 6 p.m. at St. Paul's Cathedral, 15 S. 12th Avenue in Yakima, with a Christian funeral mass scheduled for 11 a.m. on Friday, August 27. The services will be broadcast live on the Cathedral's Facebook page. : www.facebook.com/StPaulCathedralYakima. Bro. Cerezo will be buried in Calvary Cemetery in Seattle at 11 am on August 30.