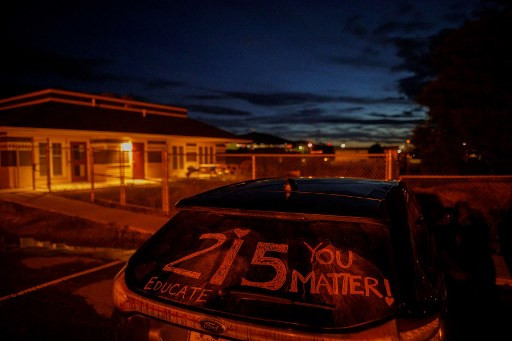 [ad_1]
The discovery of hundreds of anonymous graves near a former Catholic school for Indigenous children in Canada comes just weeks after a similar grim discovery sent shockwaves across the country.
The cases expose a dark chapter in Canadian history and are part of several burial sites unearthed elsewhere over the past decade that have revealed long-hidden horrors.
Indigenous children in Canada
The latest discovery of 751 anonymous graves in Canada concerns the former Marieval residential school in eastern Saskatchewan which had taken in Aboriginal children between 1899 and 1997 before being demolished.
"This is not a mass grave site. These are anonymous graves," Cowessess First Nation Chief Cadmus Delorme told reporters.
It comes just weeks after the nation was rocked by the discovery of the remains of 215 schoolchildren at another former Indigenous residential school in Kamloops, British Columbia.
Some 150,000 Amerindian, Métis and Inuit children were forcibly enrolled until the 1990s in 139 such schools in Canada, where they were isolated from their families, their language and their culture, and physically and sexually assaulted by them. staff and teachers.
More than 4,000 students have died in schools, according to a commission of inquiry which concluded that Canada had committed "cultural genocide" against indigenous communities.
Valley of the dead in Spain
The Spanish government approved in March a special fund to exhume the graves of the Valley of the Fallen, a vast complex near Madrid where some 33,000 victims of the Spanish Civil War are buried.
Built between 1940 and 1958 in part by the forced labor of political prisoners, the imposing basilica and mausoleum were originally intended for those who had fought for the fascist dictator General Franco.
But in 1959, the remains of many Republican opponents were moved there from cemeteries and mass graves across the country without their families knowing.
When Franco died in 1975, the authorities chose to cast a veil over the past for fear of a new conflict.
Socialist Prime Minister Pedro Sanchez has made the rehabilitation of Franco's victims a priority since coming to power in 2018.
Activists estimate that more than 100,000 dead from the war and its aftermath remain buried in anonymous graves across Spain – a figure surpassed only by Cambodia, says Amnesty International.
The horror of retirement homes in Ireland
In January, a six-year investigation concluded that 9,000 children had died in state-run and Catholic Church homes for single women and their babies in Ireland that were still operating in 1998.
The Commission of Inquiry into Mother and Baby Homes was established in 2015 after an amateur historian discovered evidence of an infant mass grave in one of these homes in the city of Tuam.
Catherine Corless has proven that 796 children, newborns to nine years old, died in the house run by Catholic nuns between 1925 and 1961.
There are no burial records, which leads many to believe that a mass grave in a disused septic tank discovered in 1975 near the house was the children's last resting place.
Plans are underway to excavate the site.
Burial place of the island of the Aborigines
Three unmarked burial sites on Fraser Island, a World Heritage Site by Australia, were discovered in 2014. They are believed to be from the Aboriginal community who died at the Bogimbah Creek mission established there. low in 1897.
More than 100 Aborigines are believed to have died at the site where they were separated from their families. Living conditions were appalling and many succumbed to disease or malnutrition before it was abandoned in 1904.
Aborigines are still the most disadvantaged Australians, with higher rates of poverty, ill health and imprisonment than any other community.
[ad_2]