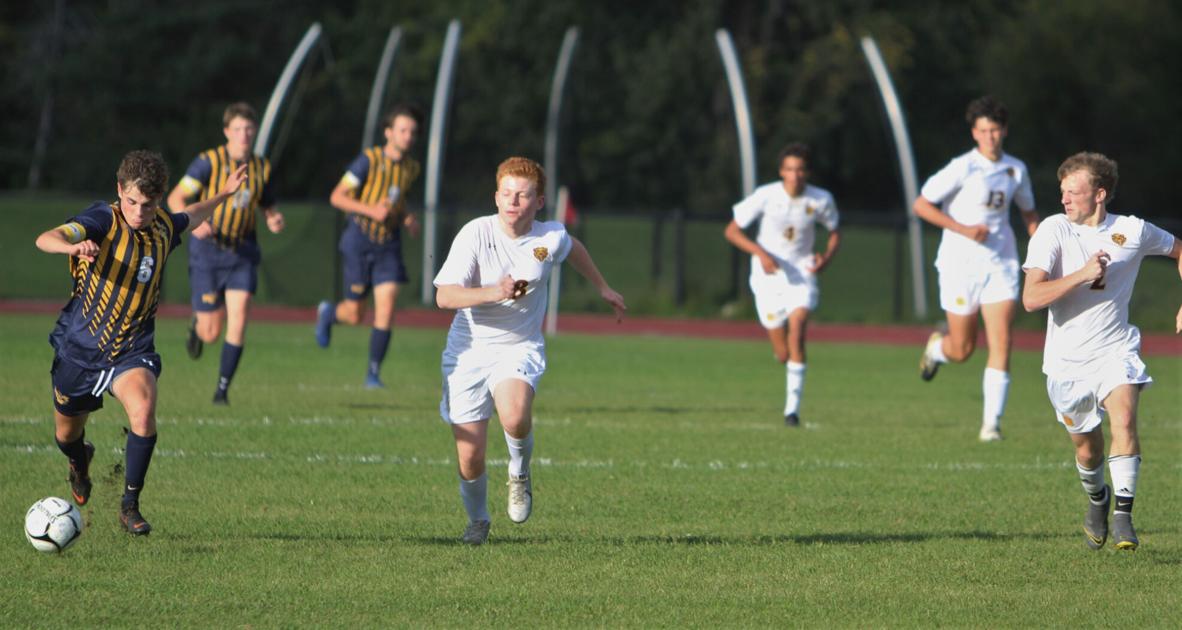 The Madrid-Waddington boys and girls football teams continued their unbeaten streak in a brace on a rainy Saturday morning at the Dan Rose Memorial weekend.
The MW Boys (5-1-0, 7-1-0) claimed a 7-0 victory in the NAC East over St. Lawrence Central and the Lady Jackets (7-2-0, 5-2-0) defeated Hermon-DeKalb 3-1 in a non-league game.
The MW Girls returned to NAC East action on Monday but saw their winning streak derail in a 2-0 loss to Brushton-Moira.
BM 2 – MW 0: The Panthers (5-3-1) scored two goals in the second half to reverse a loss at the start of the season against the Jackets who would meet the division chiefs at Colton-Pierrepont and Chateaugay during their next two games. Emma Russell scored in a scrum after a Panther shot rocked the crossbar in the ninth minute of the second half and Sarah Beachy controlled a blocked clear round and scored on a breakaway against the keeper by MW Alaina Armstrong (8 stops).
"We knew it would be a tough game today. We missed a few chances and never did anything in the second half, "said MW coach Justin Richards.
"They converted two good chances in the second half."
Natalie Palmer made 12 saves for BM.
"In our first game they got away for a few breakaways and we knew we couldn't let that happen again. We did a good job defensively and we scored on a breakaway, "said BM coach Bryan Phelan.
Chateaugay 3 – PH 0: One goal and two assists from Olivia Cook set off the unbeaten Bulldogs in another East Division victory. Cook assisted Kylee Peterson and Grace Jarvis.
Saturday's double schedule was part of Dan Rose's weekend. Each year, the Rose Family continues to support the MW College Boys and Girls programs by purchasing personalized football bags for new college players.
"The real contribution is the one they make to our school by offering scholarships to four senior recipients each year. How this family found a way to turn a tragedy in their family into an everlasting legacy to help others is monumental. They have set an example and through practice that I insist my players give back in any way they can, "said Ryan Robinson, MW Boys Soccer coach.
"I believe the stock markets have reached or are approaching the $ 100,000 mark. The life they have touched by past recipients is truly amazing. Whenever we play games this weekend, we represent our entire community, all the former players who have played and of course the Rose Family.
The MW Boys shut out Canton 3-0 on Friday and earlier in the week the Lady Jackets beat SLC 1-0 and Parishville-Hopkinton 4-3.
MW 7 – SLC 0: The goals were scored by Matthew Robinson, Kyle Murphy, Kaden Kingston, Colby Beldock and Logan Cordova. Assists were given to Matt Robinson, Drew Harmer and Logan Cordova. Morgan made 6 saves. Their goalkeeper made 15 saves. I do not know his name.
MW 3 – Canton 0: Matthew Robinson opened the scoring in the first half on a through pass from Drew Harmer and Drew Harmer repelled a rebound on a Mathew Robinson shot for the second goal. The connection re-connected on third base as Drew Harmer took a long ball from Matthew Robinson and finished.
Jacob Morgan stopped six shots in the shutout.
"We had a great game with Canton. We haven't played for 6 days and it really showed. The veteran players really came together and got us settled. I was really proud of Graham Hill and Matt Reed. They really had to fight against enormous pressure from Canton. They had some really good points on our defense tonight, "said MW coach Ryan Robinson.
"Jacob Morgan was really big and strong. I think he's the best in the league and has some really good teammates ahead of him. He's there when we need him and he continues to improve our defense and our team every day. I have to thank Canton coach Matt Caufield he lost a few starters today and they just played hard for each other. I thought their goalie made some great saves and was active in the box, he finished with 17 saves.
MW 3 – HD 1: Hailee Blair scored twice, Grace Plumley provided two assists and Hailey Tiernan delivered a goal and an assist for the Lady Jackets (7-1-0) who opened a 3- 0. Alaina Armstrong stopped five shots in the win and Olivia Woodrow scored the only HD goal.
MW 1, St. Lawrence Central 0: Hailee Blair broke for the only goal of the game 26 minutes into the second half to lift the Lady Yellow Jackets (6-1) after a relentless effort by the Lady Larries (5-4 , 4-4).
Alaina Armstrong made 11 saves to earn the shutout while Kalissa Young made seven saves four SLC.
MW 4 – PH 3: Hailee Blair scored two goals and an assist, propelling Madrid-Waddington to a 4-3 win over upset Parishville-Hopkinton in NAC women's soccer action on Tuesday. PH took a 2-1 lead at the half where Megan MacWilliams scored unassisted and Natalie Snell buried a penalty shot and Cassandra James made 10 of her 13 saves.
Blair prepared Lane Ruddy for a first-half goal for MW who remained at the heart of the NAC East race. MacWilliams scored his second goal of the game for PH in the second half, but the Jackets responded with two goals from Grace Plumley's Hailee Blair and a game-winning goal from Hailey Marcellus on a Lane Ruddy cross.
Alaina Armstrong finished with seven saves for MW.