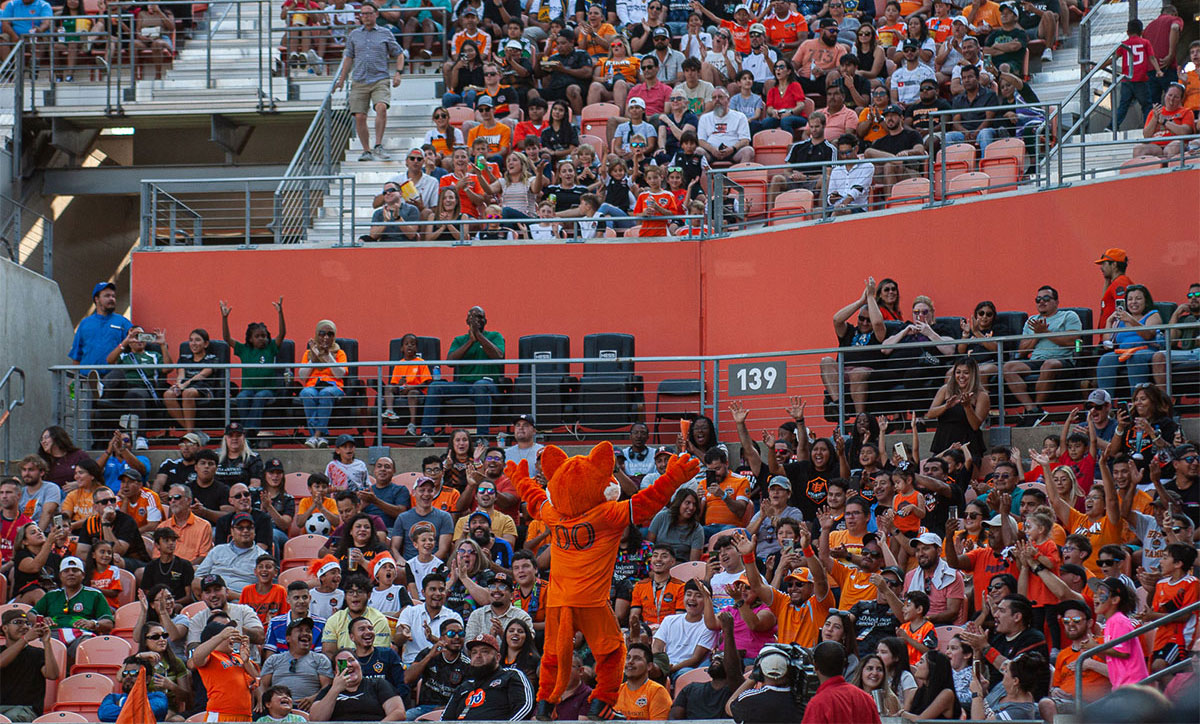 The Houston Dynamo played the Los Angeles Galaxy at PNC Stadium in Houston on October 9. Fans from both sides showed up to support their teams, but Houston fans stood out the most.
About half an hour before each match, Dynamo's band and fan band, "El Batallon", performs for the fans with their beats and chants. The crowd gets louder and louder as game time approaches. Apart from the orange and black El Batallón shirts, a variety of jerseys are also seen such as USMNT jerseys, El Salvador jerseys, and Mexican jerseys. El Batallón is as diverse as Houston itself.
El Batallon has its own section in the stadium, just behind the left goal and in front of the scoreboard. There they hang flags and banners, including a banner that reads "somos pocos pero locos," which translates to "we are small but crazy." There is a mixture of flags from countries such as Mexico and El Salvador, and even a pride flag.
During the match, all that can be heard are the drums and trumpets, while chants echo throughout the stadium. It is reminiscent of the chants heard in other football leagues such as Argentina, Colombia and Mexico. Latin culture is very present in Houston.
This off-season, Dynamo signed Mexican player Hector Herrera who attracted many Mexican fans. Herrera plays for the Mexican national team and previously played for Atlético de Madrid in the Spanish La Liga. Dynamo also have players from El Salvador, Colombia, Paraguay and Panama. Signing these players helped bring more diversity to Houston.
Superfan and Houston native Javier Esparza dresses like popular WWE wrestler Rey Misterio with a Houston Dynamo touch at almost every match. Esparza loves the Houston vibe.
"I'm coming to represent our Houston teams," he said. "Just the fans and the environment. I mean, as you can see, all the love and support you get here, that's why I'm doing this, because I love it and it's just in my heart.
Although Dynamo had a tough season, finishing 13th in the Western Conference, fans still showed up to support their team. That's the beauty of football – no matter the circumstances, the chants and cadences will always ring out throughout the stadium.
Next spring, when the new season begins, El Batallon will take out the flags and songs and set off again with hope.