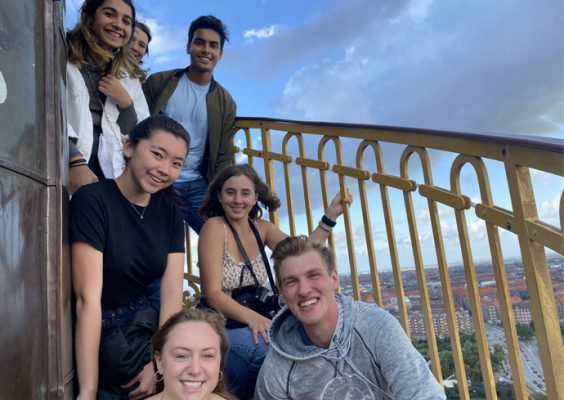 Students can now apply for Spring 2023 study abroad programs through Syracuse Abroad. Here is an overview of the program options for Spring 2023.
Florence, Italy
For hundreds of years, Florence remained a perpetual source of creativity and intellectual thought. The city is full of architectural and artistic masterpieces waiting to be explored. Plus, you'll find a city that's fast becoming an international hub for European politics, business, and international education.
London, England
London's cultural, social and ethnic diversity is unlike anywhere else on earth. Whether you are an aspiring designer, architect, actor, or simply a student of the world, your semester here will be one of the most rewarding academic and personal experiences you can undertake. Your immersion into London life comes from living like a local, where you'll discover that you're part of the city's vast assortment of small towns, each with their own distinct character.
Madrid, Spain
Based in festive and modern Madrid, Syracuse's program explores the entirety of Spanish culture. You will start with one of many separate Signature Seminars, which aim to provide the best introduction to Spain and Europe. During this time, you will also meet other classmates as well as Syracuse staff and faculty. Syracuse Madrid's cultural activities and service-learning programs will further immerse you in your new surroundings.
Santiago, Chile
From the top of the Andes to the Southern Cone, this program is your gateway to the diversity of South America. After an optional intensive language program, you will begin your journey in Santiago, the vibrant capital of Chile. The city has over six million inhabitants and a wealth of cultural and educational resources, including its two top universities, the Universidad de Chile and the Pontificia Universidad Católica, where you will take courses. To note: At least three semesters of college-level Spanish are required to apply for the program.
Strasbourg, France
Strasbourg is an exciting place to study. More than 50,000 college students flock to Strasbourg each year, attracted by its major European institutions: the Court of Human Rights, the Council of Europe and the European Parliament. The decisions and policies taken in Strasbourg play an important role in international affairs. This program is designed to make the most of all that Strasbourg offers: you will learn from international professors who are professionals in politics, diplomacy and law.
See all spring 2023 programs.
Global Partner Programs
Looking for a niche, topical, or field study program outside of the Syracuse centers? Look no further than World Partner Programs!
World Partner programs allow students to choose from more than 60 partner institutions in cities around the world. World Partner students are often independent and motivated, and are generally looking for a very specific experience abroad: film school in Prague, practicing Hebrew in Israel or studying biodiversity in Madagascar.
See all World Partner programs.
Students can start planning their Spring 2023 semester abroad and apply for programs now.
For more information, students can schedule an appointment with an international program advisor or schedule a general counseling appointment to explore several options. Syracuse Abroad will continue to offer virtual counseling appointments throughout the summer.
The application deadline for most programs is October 1 and applications are reviewed on a rolling basis. All students are encouraged to apply as soon as possible, as some programs have limited capacity. For specific deadlines, students should refer to each program's individual application page.