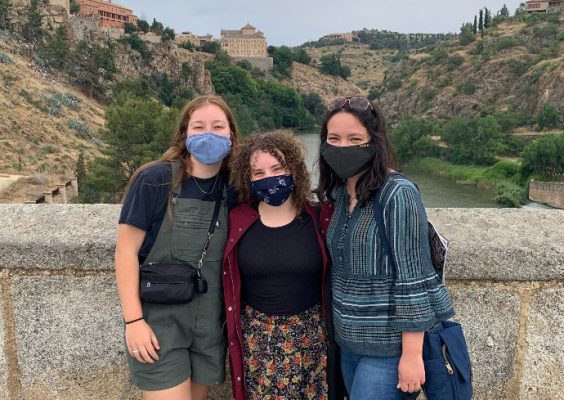 Syracuse Abroad is ready to take students to new heights this summer with more than 20 unique programs abroad. In the summer of 2022, students can discover the vibrancy of dozens of cultures abroad through interactive and immersive learning experiences.
On February 1, students, faculty, and staff are invited to the 3rd Annual Summer Study Abroad Fair, to be held from 11 a.m. to 2 p.m. in the atrium of the Schine Student Center (behind Dunkin' Donuts ). Students will have the opportunity to meet international summer program advisors, faculty who will lead summer programs, and Syracuse Abroad summer program alumni. Visit Syracuse's Upcoming Events Abroad page for more event information.
Summer 2022 programs
In summer 2022, Syracuse Abroad will launch a new customizable multi-city summer program, offering classes and internships in Florence and London. This blended summer session will allow students to choose the duration, location(s) and courses of their program according to their academic needs, interests and schedule. Students can spend between one week and eight weeks in either or both locations, with the option of taking culturally enriching classes or participating in an internship. In addition to academic programming, center activities at each location may include city tours, food tastings, and day trips to nearby towns.
Summer sessions will also take place in Madrid and Strasbourg, with a host of courses and programs offered in each location to satisfy any student's interest. In Madrid, students will spend five weeks taking one or two courses, living with a host family or in a local hall of residence. Courses include Cross-Cultural Psychology PSY 400, Sexuality in Spain SOC/QSX/WGS 306/600, Sports Business BUA 300.2, and more. In Strasbourg, students will live with a French host family and take one or two courses including French for Diplomacy, Engineering Research Projects, Internships and Religion, Law and Human Rights in a comparative perspective. Students can connect virtually with staff in Florence, London and Madrid via Zoom on February 3. Learn more here.
In addition to the Syracuse Centers programs, students can participate in a variety of faculty-led programs and internships. Explore the fascinating history of sport in Australia, architectural design environments in Japan or political studies in the Middle East. Internships will be offered in 10 different locations including Uganda, Tel Aviv, Brussels and many more. See all summer programs.
Due to the continued impact of COVID-19 on all international travelers this summer, Syracuse Abroad has implemented extensive health and safety precautions and support measures for each Central Syracuse location. These comprehensive plans were developed in collaboration with campus experts and public health officials, in accordance with local regulations and resources. Review the COVID-19 center plans.
Summer Funding Opportunities
Syracuse University is committed to making the Syracuse experience abroad possible for all students. In partnership with ESE and Invest Syracuse, Syracuse Abroad is pleased to provide a variety of assistance options available to students participating in the 2022 summer programs, including the scholarships and aids listed below. Review summer funding opportunities.
Merit-based summer scholarships
Syracuse Abroad is also pleased to announce the return of merit-based scholarships for summer 2022 study abroad programs. Syracuse University undergraduate students with high academic achievement may apply for a limited number of $1,000 merit-based scholarships to participate in exciting, academically challenging, and innovative summer programs abroad. For more information and to find out how to apply for a merit scholarship, students can visit their OrangeAbroad application portal.
Need-based financial assistance
The Office of Financial Aid awards Study Abroad Scholarships (SAG) to undergraduate students, based on financial need, ranging from $250 to $2,000 for three credits and from $500 to $4,000 $ for six credits. Need is determined by information from the Free Application for Federal Student Aid (FAFSA) from the previous academic year and is available for all summer programs. Once accepted into a summer program, students will automatically be considered for these scholarships and alerted by the Office of Financial Aid if a scholarship has been awarded.
Enjoy the summer of 2022 and apply now. The deadline is February 10, 2022 and applications for summer programs are reviewed on a rolling basis. For more information on summer programs, email International Summer Program Advisors Stephanie Ramin or Myles Chalue.