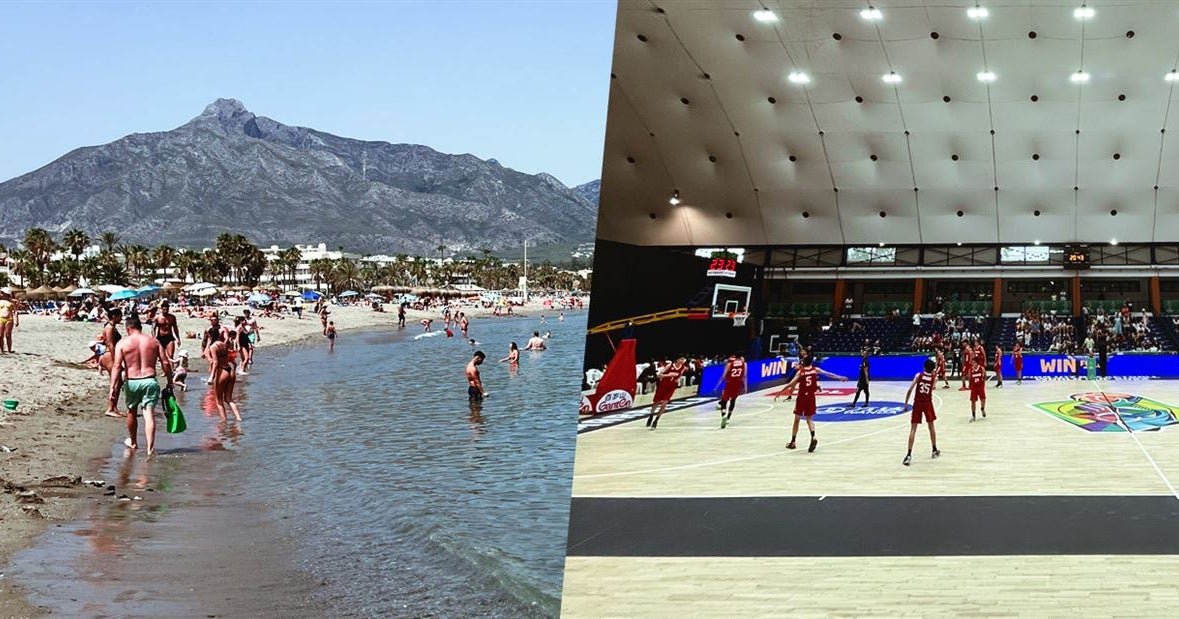 After arriving at 1:30 a.m. on July 2, I knew I wasn't going to the first game.
Sometimes when you go to another country you quickly learn that they operate on a different logic. After an hour of waiting at baggage claim with about 40 people and not seeing any of our bags, we learned that they were sending bags from other countries to another part of the airport (thanks to the friendly Canadian who tipped us (hope you won your race!)
Then comes the biggest and most terrifying challenge – to travel the roads of Europe. If you've never been there, the roads of Europe are a lawless, unforgiving and dynamic obstacle course with cars and pedestrians testing you at every crosswalk and turn.
I quickly learn on the way to the gym that Spaniards love rides and it's a good thing I used one every day in high school.
I finally arrive at the gym at 2:30 p.m. local time in the same sweat-soaked clothes I've been wearing for the past 18 hours, and as I graduate, three college trainers drop by for lunch. between matches. and thank you for asking me to join you.
An interesting thing about international scouting is that all the walls between coaches are broken down. Everyone mixes, eats together and hangs out together. In the US, you won't often catch coaches from different schools together, just like when they go international.
We had forgotten the siesta. We took a right and all the restaurants were closed so we turned around and finally found an open place.
We sit down and encounter a language barrier as the waitress didn't speak English. I caught a breath of inspiration thinking back to a previous trip to Spain when other coaches used google translate to communicate with the locals so I do the same and order something I still don't know what it was, the coach directly opposite gets shrimp, one gets steak and another plays it safe and just gets fries.
It's the first time we've met two of these coaches, so we get to know each other, find out how we all got to where we are in our careers, learn about each other's real lives at home and how much those stinky fries with whatever sauce they came out with was.
At 3:45 we go back inside and watch France take on Serbia, then immediately get back in the rental car and drive an hour to check in at the hotel, then head straight back to the gym at 10 minutes from Marbella for the final. two games of the evening.
At 7:15, I arrive at the second gymnasium to catch up on the second half of Mali and Slovenia.
After the game is over, about three coaches and I come out and have a snack. I had a cake that looked like something Little Debbie would make, but my excitement quickly turned to disappointment with my first bite.
We sat outside on the patio for the next 30 minutes, chopping it all off and discussing the exciting life events ahead for some.
At 8:30 we head back inside to catch USA beating Lebanon in their opener 120-44 and I quickly grab a handful of post-game interviews and proceed to dinner at 11:00.
Two coaches and I drop our cars off and head to a local restaurant a few minutes away on Uber – this time the waitress speaks English.
I ask her for her recommendation and she immediately says that their Indian food is very good. Surprised by his answer but pushed by my love of Indian cuisine thanks to my wife, I immediately answer that I would like the chicken tikka masala.
The others I am with order steaks as well as entrees for the table which included fried brie cheese with a truly amazing raspberry sauce and a bottle of local Spanish wine for the table.
We talk about the state of coaching and their current and past experiences. What it's like to work at the upper level compared to the mid and low level, with both agreeing that working at the mid and low level has been their most enjoyable years to date.
Salaries didn't matter to these two being from power conference schools. They just enjoyed being able to focus on coaching and seemed to suggest that with ascension the focus was shifting away from coaching and more into controlling chaos, especially in NIL's time.
They take out the food and the waiter was right, the chicken tikka masala was delicious but my friends learn that they cook their beef by a difference of two temperatures here – both coming out with basically a rare steak.
Then we learned a second valuable lesson: don't ask to send food back to Spain. They take it personally and our waitress' mood quickly turned the rest of the meal upside down.
We finish a second bottle and a small dessert before returning at 1:00 am, ending an extremely long first day.